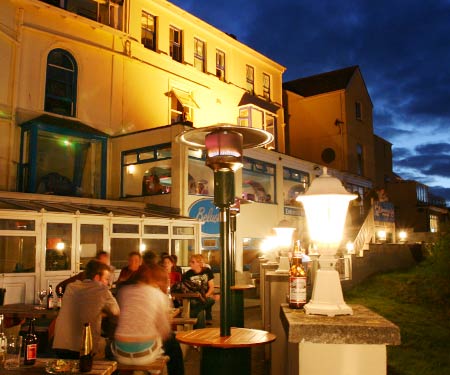 Newquay is not only famous for its sandy beaches, the surf and a great view of the sea, it's also teaming with a fantastic nightlife that surely no one is going to forget.  And nothing says more about nightlife than Belushi's.
Located right beside the coast, Belushi's can be found near the heart of Newquay.  Belushi's has long been a popular bar chain in Britain that was first established in 1993 and now finds its way home in Cornwall too in the nation's surf capital.
Belushi's is a great place with great ambiance and has something for everybody. Belushi's Newquay offers a huge selection of fat juicy and flavorful burgers to enjoy.  They also have great options for drinks and cocktails including some of the best Cornish ciders and beers.
It's also never a dull moment at Belushi's as there is always something going on.  There are open mic nights where anyone can come up and be a rockstar, live music performances from bands and they even have DJs every weekend.  So you're sure to find something fun and exciting when you hang out at Belushi's.
Belushi's even has its own surf school.  Being located so near the coast in one of the busiest surf locales, Belushi offers training courses whether you're a beginner or looking for a refresher course.  And after a day of fun surfing, there's no other place to have relax, have a drink and have some fun at Belushi's.
Belushi's menu of snacks and finger foods such fries, onion rings, potato wedges and even nachos.  Looking for a heavy meal? Belushi's has you covered as they also serve meal platters with your choice of food items. Belushi's also very famous for its burgers, with your choice of 13 different burgers which you can customize to suit your tastes.  They also offer hot and cold drinks and desserts as well.
For those who come in early, Belushi's also has a great breakfast menu that includes bacon and sausages that will really whet your appetite and keep you coming back for more. They even offer a great selection of drinks such as white wine, red wine and cocktail drinks.  You can even consider getting a party package from Belushi's if you and your friends plan to celebrate the night away.
The bar itself can accommodate up to 300 people at any time so there's lots of room for you to hang out, chill and maybe even dance to music.  You can also enjoy from a wide array of amenities such as a pool table, beer pong, and live sports playing at the bar's TVs.
Belushi's Newquay is also host to regular and international events such as the Urbanfest 17 where they celebrate 5 weeks of music, showcasing some of the greatest local entertainment and talents that Newquay and Cornwall has to offer.
Some of the features and amenities at Belushi's include:
Serves Breakfast, Lunch, Dinner, Brunch, and Late Night Meals
Outdoor Seating
Regular Indoor Seating
Waitstaff
HD TVs for sports and action
Wheelchair Accessible
Serves Alcohol
Full Bar
Reservations
Highchairs Available
Free Wifi
Location and Contact Information:
35 Fore St,
Newquay TR7 1HD
Tel: 01637 859111
Website: https://www.belushis.com/bars/newquay
Email: [email protected]